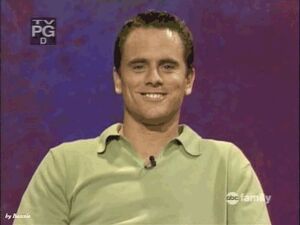 Chip Esten (born 9 September 1965) is an American television personality who has appeared as a recurring performer on both the British version and the American version of Whose Line Is It Anyway?, and returned as a special guest in season 13 during the CW run.[1]
Esten first gained fame in the theater community by appearing in the 90s update of the Broadway hit Buddy! and later went on to star in three different Kevin Costner movies. He has guest-starred on various Star Trek spin-off shows, NYPD Blue and NCIS: Los Angeles, in addition to a recurring comedic role on the NBC sitcom The Office.
He currently stars on CMT's (originally ABC's) hit drama Nashville.
Appearances
UK
US
GS
IAG
References
Ad blocker interference detected!
Wikia is a free-to-use site that makes money from advertising. We have a modified experience for viewers using ad blockers

Wikia is not accessible if you've made further modifications. Remove the custom ad blocker rule(s) and the page will load as expected.