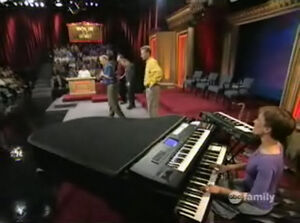 The Car Salesmen Hoedown is an edition of the "Hoedown" game from the American version of Whose Line. It was performed in Episode 2-01 by Chip Esten, Drew Carey, Colin Mochrie, and Ryan Stiles, with the help of Laura Hall on the piano.
Lyrics
Chip:
Yeehaw! Tulsa, Oklahoma, sa-lute!
I went down to my dealership, I tried to buy a car.
He tried to sell a lemon, but he didn't get too far.
I found a lot of steals and I found a lot of deals.
And then I bought a Pinto, but it didn't have no wheels.

Drew:
Well, I wanted a Chevy but I didn't wanna get bored.
Then I thought maybe a Mercury, maybe I'll get me a Ford.
But when it came down to it, I didn't make a fuss.
'Cause I didn't have any money anyway, so I just take the bus.

Colin:
I met a car salesman, he didn't have no ethics.
And I believed his every lie, it really was pathetic.
He did horrible things that no good man ever should.
I came home early, found him checking under my wife's hood.

Ryan:
Oh boy, those German cars, do they cost big bucks.
I looked at the price tag and I am full of yucks.
Oh, those Porsches more expensive than the others,
Unless you're Drew Carey and get it free from Warner Brothers.

All:
Free from Warner Brothers!