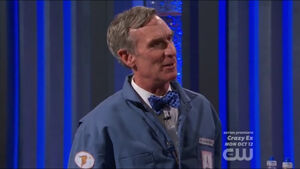 Bill Nye the Science Guy (born 27 November 1955, Washington, DC) is an American science educator, comedian, television host, actor, writer, scientist, and former mechanical engineer. He is best known as the host of the Disney/PBS children's science show Bill Nye the Science Guy (1993–98) and for his many subsequent appearances in popular media as a science educator. Nye received the 2010 Humanist of the Year Award from the American Humanist Association.
Appearances
On 21 December 2010, Bill Nye performed Whose Line?-type improv at the Crazy Uncle Joe Show at The Groundlings Theatre in Los Angeles, CA.[1][2]
In Fall of 2015, Bill Nye appeared on Episode 11-17 of the renewed Whose Line is it Anyway? series. The episode was originally filmed on 28 January earlier that same year.[3]
Gallery
References