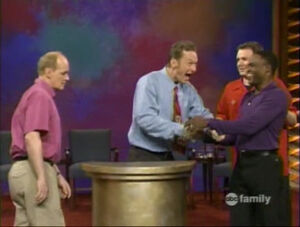 Award Show is a game in which two performers are presenters on an award show for a given absurd achievement. They announce the nominees as the camera shows random pairs of audience members. The other two performers are the winners and make an acceptance speech.
Appearances
Ad blocker interference detected!
Wikia is a free-to-use site that makes money from advertising. We have a modified experience for viewers using ad blockers

Wikia is not accessible if you've made further modifications. Remove the custom ad blocker rule(s) and the page will load as expected.