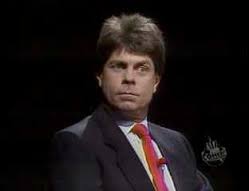 Archie Hahn (sometimes credited as Archie Hahn III, born 1 November 1954) is an American character actor and improviser best known for his appearances on the British version of Whose Line is it Anyway? He has also appeared in This Is Spinal Tap, Phantom of the Paradise, and many Joe Dante films.
In two of his final appearances on Whose Line is it Anyway?, Hahn unexpectedly brought props to use as he improvised, first castanets and then a pair of false teeth.
Hahn has done similar work in the improv theater company, WAR BABIES.
Appearances
Ad blocker interference detected!
Wikia is a free-to-use site that makes money from advertising. We have a modified experience for viewers using ad blockers

Wikia is not accessible if you've made further modifications. Remove the custom ad blocker rule(s) and the page will load as expected.