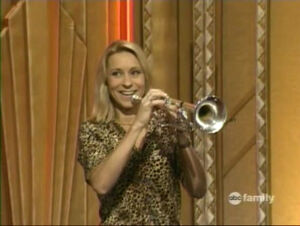 Anne King is an American musician. She has performed, toured and recorded with a wide variety of well-known artists, including Rod Stewart, Michael Feinstein, k.d. lang, Lenny Kravitz, Steven Tyler, Guns n' Roses, Phil Collins, Sheena Easton, Eric Benet, Don Henley, Spinal Tap, Take 6, Celia Cruz, Shirley Bassey, and Lou Bega. Anne has performed for several years on The Tonight Show, American Idol, and The Voice, and on Whose Line Is It Anyway?
Appearances
Notes
She is seen in the establishing shot of Episode 5-33, but is not credited and does not perform in that episode.
Gallery
External Links
Ad blocker interference detected!
Wikia is a free-to-use site that makes money from advertising. We have a modified experience for viewers using ad blockers

Wikia is not accessible if you've made further modifications. Remove the custom ad blocker rule(s) and the page will load as expected.