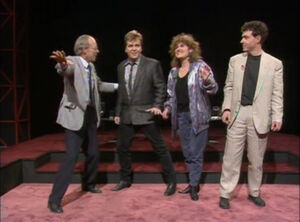 American Musical is a game in which the four performers act out a Broadway-style musical, the storyline of which is based on three audience suggestions. They begin talking normally, but break into musical numbers when background music begins.
Similar to "Show-Stopping Number", "Opera" and "Scenes"
Appearances
Ad blocker interference detected!
Wikia is a free-to-use site that makes money from advertising. We have a modified experience for viewers using ad blockers

Wikia is not accessible if you've made further modifications. Remove the custom ad blocker rule(s) and the page will load as expected.